SOUND MATTERS: How Can You Improve Your Home Audio Quality?
Reward Yourself This Holiday Season with These Features and Products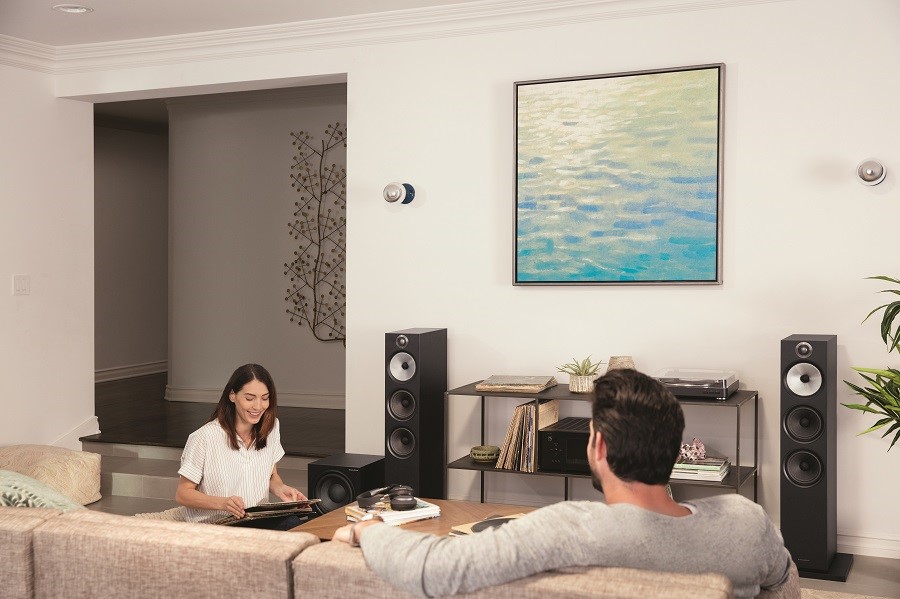 Sound quality is the most important aspect when listening to music or watching a movie. Immersive home audio can completely transform your mood and help you escape form everyday life.
Knowing the right tools to get high-quality audio in every corner of your Davenport, IA house is the first step. Each item or feature that we highlight in this blog makes it easier to enjoy your favorite media just the way it was meant to be heard. This Holiday receive FREE basic setup (table top) set up with your purchase. PLUS receive 10% off additional combined purchases. See store for more details.
SEE MORE: Want to Get into the Holiday Spirit? Start With Music
Bowers and Wilkins
Bring new-found quality to your home audio with our full line of high-end audio loudspeakers and hif-fi headphones.
High-End Loudspeakers: For the true audiophiles in the family, you'll want to create dedicated listening spaces with high-end loudspeakers. In that category, Bowers & Wilkins stands out from the rest. Their new 600 and 700 series offers powerful, pristine sound that parallels the original recording.

The 700 series is the more powerful of the two and ideal for 2-channel applications. It's Carbon dome tweeter, and Continuum cone technology provides a wider range of sound without sacrificing any of the accuracy.
The 600 series uses the same technique to offer clarity of audio in a more diverse offering. With smaller loudspeakers and bookshelf models available, it's great for surround sound applications.
Hi-Fi Headphones: There are times when you may want a more intimate listening experience. For those moments, we recommend going with hi-fi headphones from Bowers and Wilkins. The PX model offers adaptive noise canceling technology and advanced Bluetooth connectivity that lets you quickly disappear into your favorite music. Like the PX, the P9 has 40 mm drivers that offer the ultimate sound depth without sacrificing any of the clarity or power. Both come in luxury designs and finishes so you can wear them proudly at home or on the road.
Soundbars
As TVs get smaller, their built-in speakers naturally get weaker as well. In most home theater or media room installations, soundbars are a must. Soundbars use a design that allows for a full sound field covering the entire room. They include distinct channels –left, right, center, and ceiling-firing for Dolby Atmos-enabled ones—to create a surround sound experience without the need for multiple speakers.
Most soundbars come with separate music and movie modes, so you can use them to listen to albums or playlists as well. We work with models from Sonance, HEOS, Sonos, and Integra that offer powerful audio and convenient access to all your media whether you want to watch Netflix or pull up a curated playlist from Spotify.
Music Streaming Services
Streaming is now the primary way people enjoy their favorite entertainment. Any major home upgrade needs to start by giving your multi-room audio and surround sound wireless capabilities.
No two companies standout more in this regard than Sonos and HEOS. Use their speakers, subwoofers, and sounbars to craft high-performance wireless solutions. If you have existing speakers, use their amps to connect them into your new wireless environment.
Through both systems, pull up your favorite streaming services from an intuitive app and choose through which speakers or rooms you want them to play. You'll get immediate access to the most popular services including Spotify, Tidal, and Soundcloud.
Professional Installation
To get the most out of the products featured in this blog, we recommend going with a professional installation. It's important to have the right cabling framework to get high-quality signals to all your audio components. All wires stay behind walls to avoid any eyesores or safety hazards.
Finally, bring all of your audio products and features within one umbrella. Through our smart home partners, we make it easy to control all your diverse array of speakers from one touchpad, mobile app, or elegant in-wall keypad. At the press of a button, choose the music source and speakers you want and even group certain rooms together.
To get started on your next home audio upgrade or to learn more about our promotions, reach out to us by calling 888-702-7800, filling out our online form, or contacting one of our chat representatives.